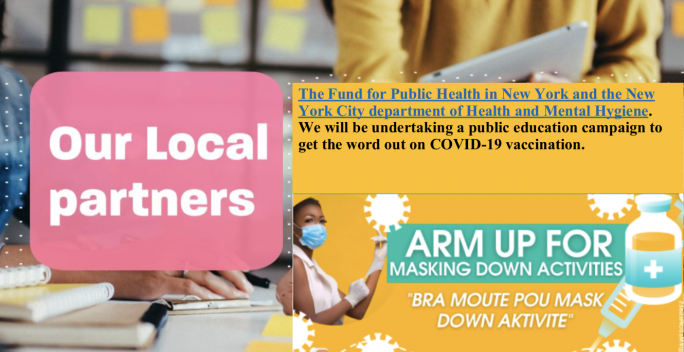 Website : https://fphnyc.org/
Phone : 646-710-4860
Updated COVID-19 Bivalent Shots Now Available for Children 6 Months to 4 Years
Updated COVID-19 Bivalent Shots Now Available for Children 6 Months to 4 Years
NYC Health + Hospitals is now offering the Pfizer bivalent vaccine to children 6 months to 4-years-old as the third dose of their primary series.
The updated, bivalent vaccine is now available in the pediatric clinics of all 11 of our hospitals. It offers the best protection against the current variants of the COVID-19 virus and is safe and effective in preventing hospitalization and serious illness.
What You Need to Know:
A primary series for this age group consists of three doses
The first two shots are the original, monovalent vaccine given three to eight weeks apart
The third dose is now the updated, bivalent vaccine, given at least 8 weeks after the second shot
Children 6 months to 4 years who already received the three doses of the Pfizer primary series are not eligible for a booster dose at this time
Schedule an Appointment
NYC Health + Hospitals patients are encouraged to schedule an appointment for their child's COVID-19 vaccine by calling their pediatrician directly. Anyone who is not a NYC Health + Hospitals patient can use the City's Vax Finder or call 877-NYC-4NYC (877-629-4692) to schedule an appointment at other locations.
Resources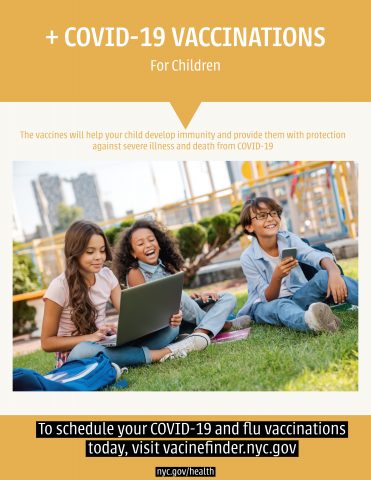 Other Languages: Español | Русский | 繁體中文  |  简体中文 |  Kreyòl ayisyen | 한국어 | বাংলা | Italiano | Polski | ײִדיש | العربية | Français | اردو
Prevention Guidance
COVID-19 is still spreading in NYC, so you should continue to take the following precautions:
Wear a high-quality mask in all public indoor settings and around crowds outside.
Stay up-to-date on vaccinations.
Test before and after travel or gatherings, or if you were recently exposed to someone who has COVID-19.
Wash your hands.
COVID-19: Prevention and Groups at Higher Risk
We can all work to reduce the spread of COVID-19 by staying informed and taking the necessary steps in prevention. Learn more in the pages below about what you can do for yourself, your family and your community.
Vaccination
Vaccine Main Page: Find a vaccination site and learn about the vaccine's benefits.
Vaccine Equity: The City of New York is a signatory to a letter on worldwide COVID-19 vaccine equity.
Data
Testing, Prevention, When You Are Sick
Businesses, Schools
Providers
Mental Health
Additional Resources
---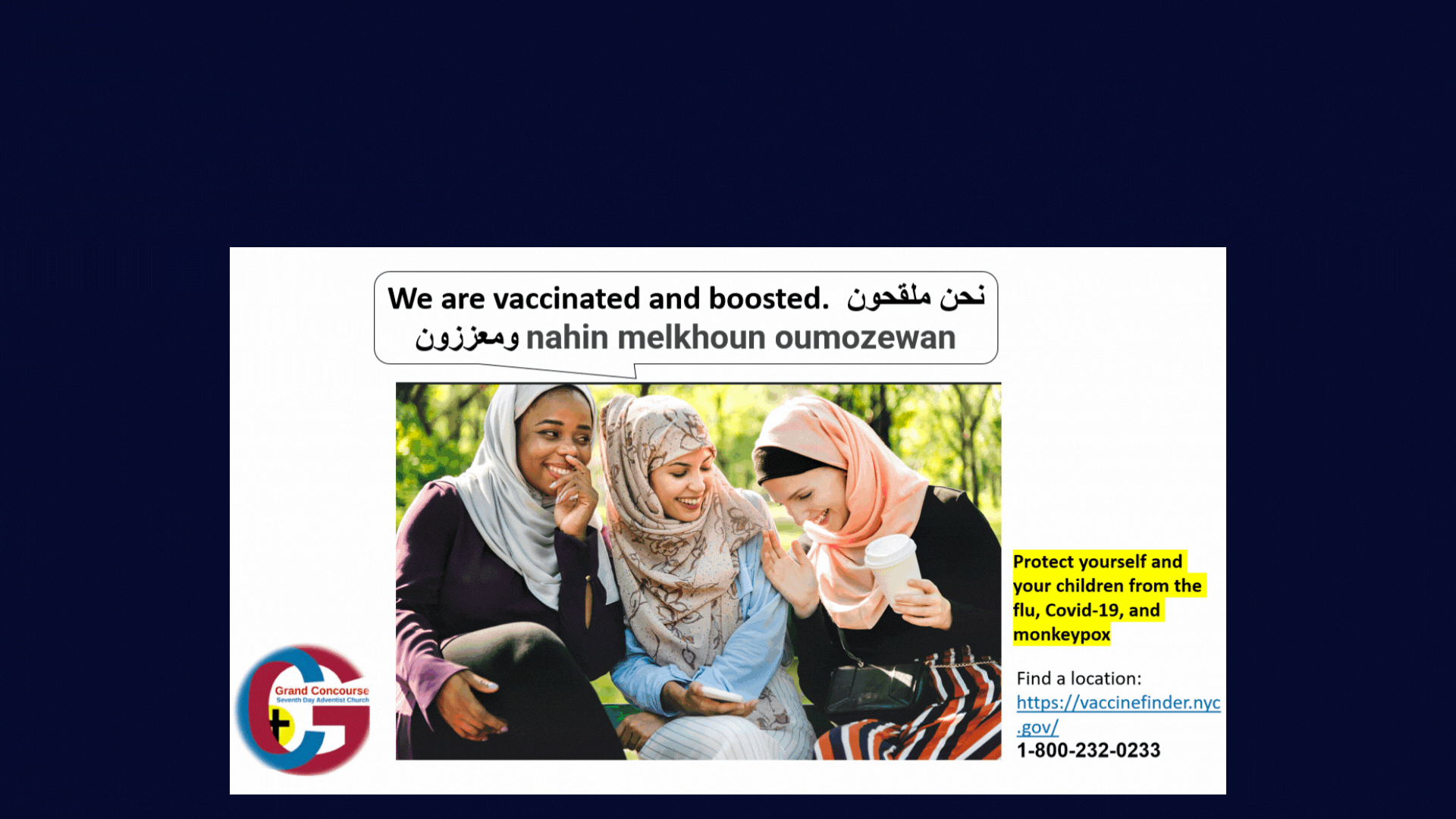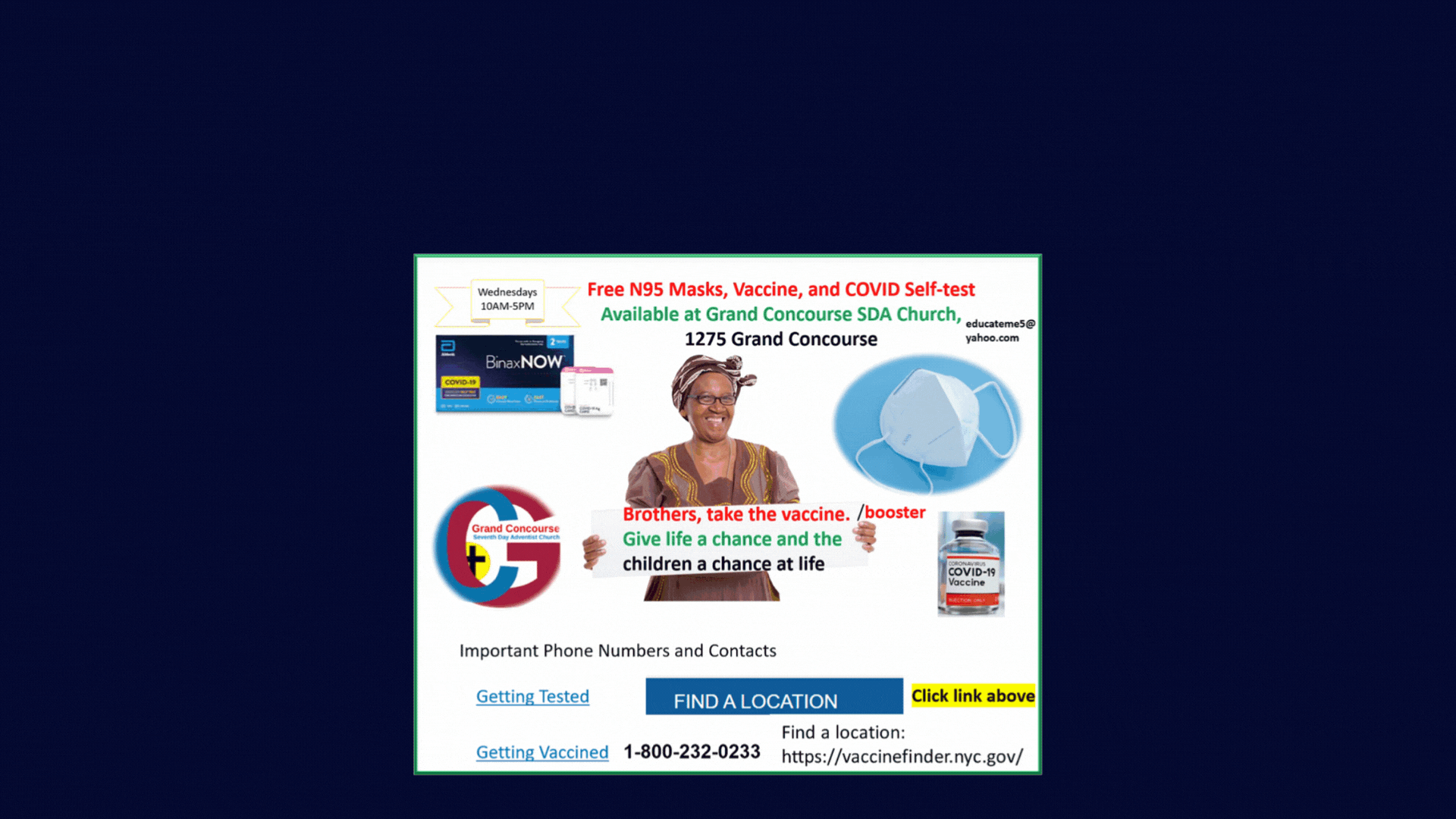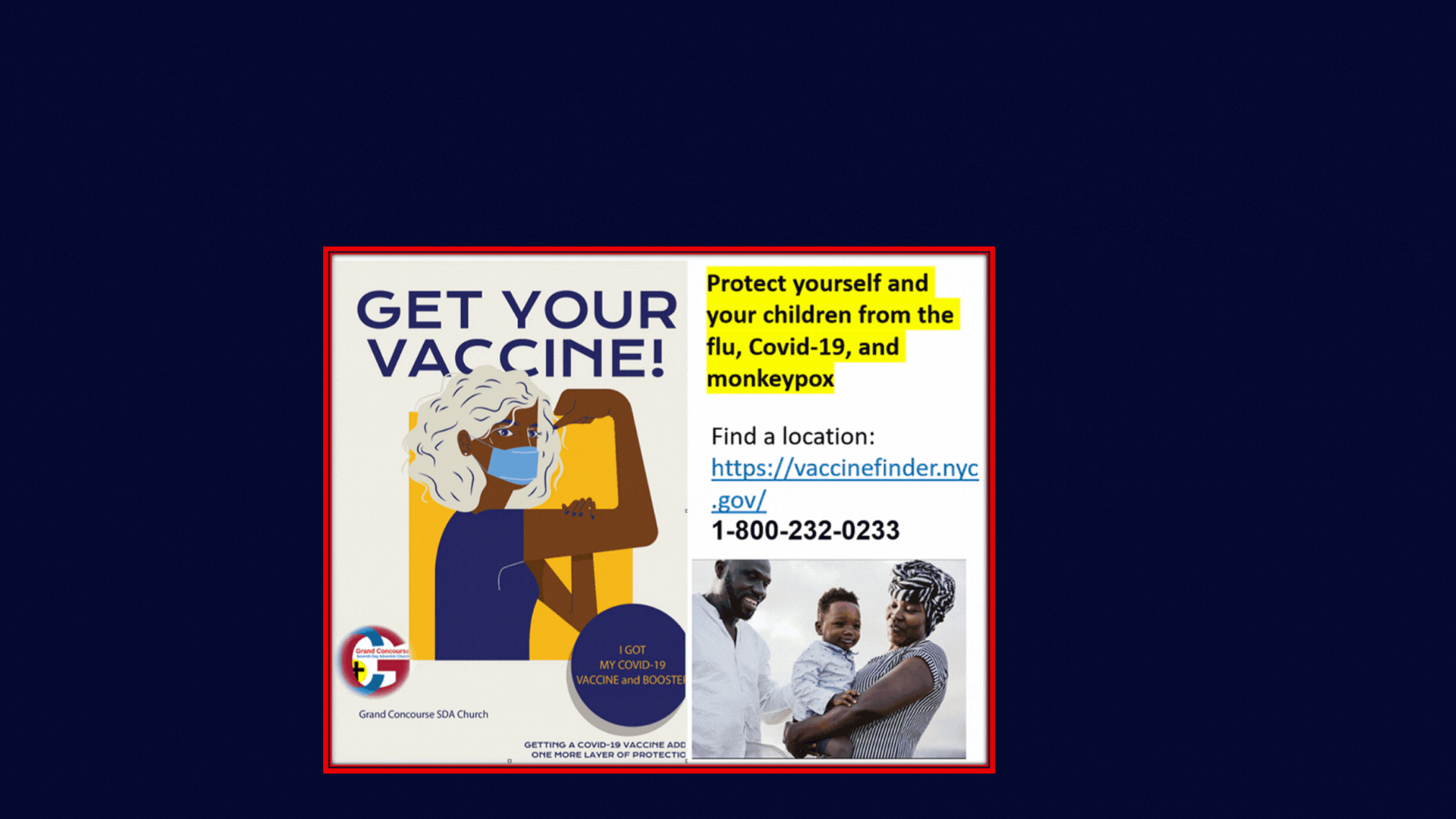 ---
---
UPDATE: The current COVID-19 Alert Level in NYC is now medium. This means the COVID-19 risk is increasing in NYC: on.nyc.gov/covidalert
At this time, follow these prevention tips:
If you are unvaccinated or at high risk for severe COVID-19 illness, take additional precautions (avoid crowded indoor and outdoor settings).
Stay up to date: get vaccinated and boosted: nyc.gov/vaccinefinder
Wear a face mask in public indoor settings.
Get tested if you have symptoms, were exposed traveled, or were at a large event: on.nyc.gov/covid19testing
Stay home if sick.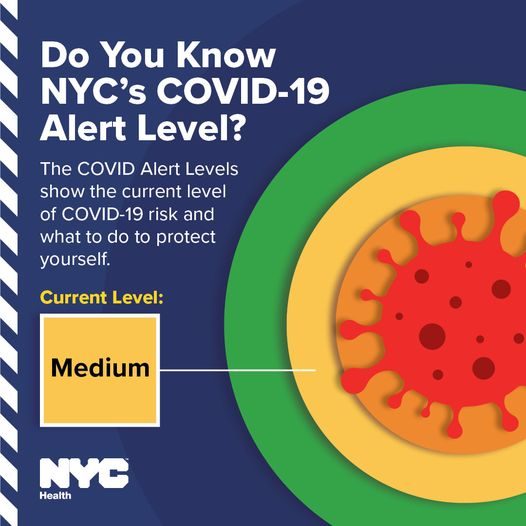 ---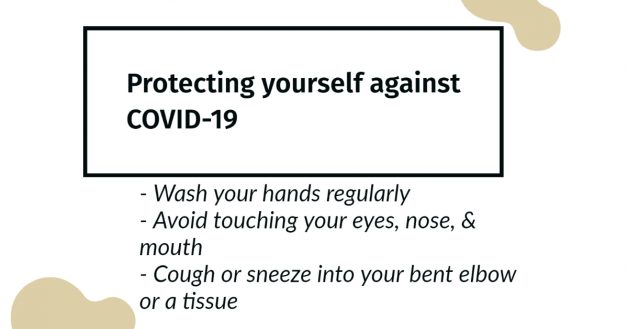 The Public Health Corps (PHC) is a citywide effort to expand the public health workforce by engaging community groups including community health workers in efforts to eliminate COVID-19 disparities.
Thank you for your continued partnership.
PHC WEEKLY
Vaccine Equity Milestones
Thanks to the hard work of our PHC partners, 73 out of our 74 TRIE ZIP codes have reached 70% fully vaccinated adults. This marks an incredible milestone in our work, and we are now pivoting to focus our outreach and reporting on children and youth vaccination efforts going forward.
In the last week:
Six new Taskforce on Racial Inclusion and Equity (TRIE) ZIP codes have reached 70% fully vaccinated for all ages.
Now, 51/74 TRIE ZIP codes are at 70% fully vaccinated for all ages.
4/74 TRIE ZIP codes are at 70% fully vaccinated 5 to 12 year-olds.
51/74 TRIE ZIP codes are at 70% fully vaccinated 13 to 17 year-olds.
During the period of February 6 to February 12, 2022, our partners:
Engaged 68,756 community members at 509 in-person events.
Engaged 20,342 virtual community members at 27 virtual events.
Made 20,275 vaccine referrals, 8,449 testing referrals and 4,010 referrals to other health and social services.
Distributed 95,400 pieces of educational literature and 390,159 face masks.
Activity
The latest data and key metrics on COVID-19 in New York City can be found here.
Living Black History
PHC's successes do not exist without the leadership and dedication of our Black team members, partners, and community members. This February, we would like to acknowledge the decades of hard work by Black Americans that has enabled the public health community to continue making strides in health equity today. Throughout Black History Month, we celebrate community partners that demonstrate Black Excellence in New York City.
The Sauti Yetu Center for African Women & Families is a social service organization that supports and strengthens African and other immigrant families in the Bronx, Brooklyn and Staten Island. In partnership with Africans Help Desk, Sauti Yetu's Community Wellness department has increased equitable access to COVID-19 information and resources for more than 8,000 people through a wide range of culturally and linguistically attuned services. Activities such as answering COVID-19 vaccine-related questions in native languages, sharing information on platforms like WhatsApp, and providing access to experts who are also African have been instrumental in helping people feel confident about getting vaccinated against COVID-19. 
"I believe that telling our stories, first to ourselves and then to one another and the world, is a revolutionary act." - Janet Mock, writer, director, producer, transgender rights activist
Operational Guide
The Operational Guide provides COVID-19 metrics for each ZIP code and locations for mobile vaccination sites. Please address any questions you have regarding updates to your Partner Coordinator.
Announcements and Policy Updates
See the Centers for Disease Control and Prevention's (CDC) updated clinical considerations on fourth vaccine doses for people with moderate or severe immunocompromise here.
NYC Test & Trace is currently partnering with select library branches and cultural institutions in every borough to provide free rapid test-kits to anyone who would like to receive one. To see all participating locations and their distribution schedules, visit nyc.gov/covidtest or call 311.
Resources
Call For Entries: CHWs for National Public Health Week
The American Public Health Association (APHA) will be featuring community health workers (CHWs) during National Public Health Week in April. APHA is collecting short videos to share across its social media channels. To participate, complete the video project form, review the video guide, and submit a video by March 2, 2022.
Queens Youth Advisory Board
The Queens Neighborhood Health Program and the Health Department will soon launch the Queens Youth Advisory Board and the Queens Youth Health Summit. Applications for the Advisory Board have been extended until March 7, 2022; the deadline for enrollment in the Summit is May 27, 2022. See these updated flyers for more information on the Advisory Board and the Summit.
PHC Events and Trainings
These events and trainings are open to all partners. The events are free and optional, and they are hosted by PHC partner organizations.
Share Your Events with Us!
The PHC team wants to celebrate the hard work of our community partners. We invite you to share your events, links and photos in our newsletter and on social media. If you'd like to be featured, please contact your Partner Coordinator.
Partners Corner
Each week, we will spotlight our community partners. 
Staten Island Community Organizations Active in Disaster (SI COAD) is a coalition that strengthens the borough's crisis preparedness. SI COAD has been at the forefront of responding to COVID-19 on Staten Island through communication, coordination, cooperation, and collaboration. Its many programs have circulated helpful resources to its community partners. SI COAD also joined forces with CBOs and medical ecosystem partners to develop the Staten Island Stay Strong Stay Safe public messaging campaign (#SIStayStrongStaySafe) and its communications toolkit. 
SI COAD was featured in Frontline Magazine, a publication of the Commissioned Officers Association of the U.S. Public Health Service. Follow SI COAD on Facebook and Instagram.
CBO Events
If you would like to partner with another organization on any of the upcoming events listed in this spreadsheet, please click on the RSVP link to fill out the request form.
Clinical Sites
New clinical sites have been recruited – see the updated list here. These clinical sites are working with the PHC CBOs in their United Hospital Fund (UHF) neighborhoods to support CBO-led health events by providing COVID-19 and flu vaccinations, as well as screenings for diabetes, depression, loneliness and social needs. Please contact your Partner Coordinator for contact information.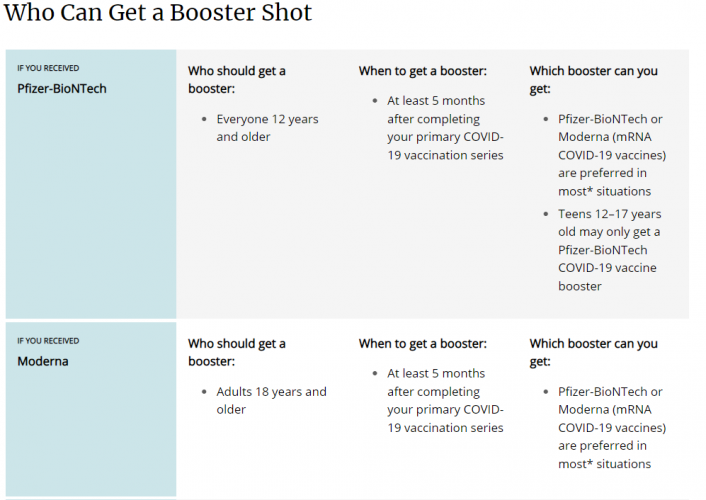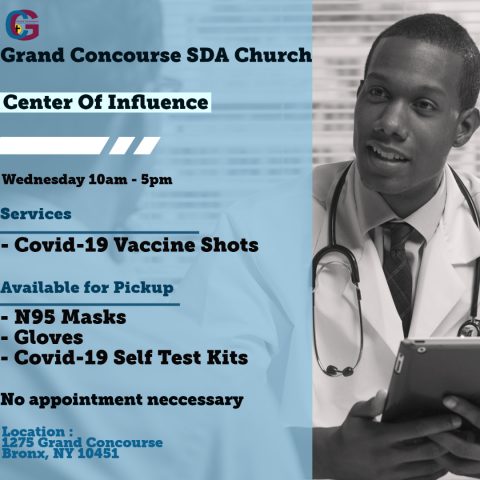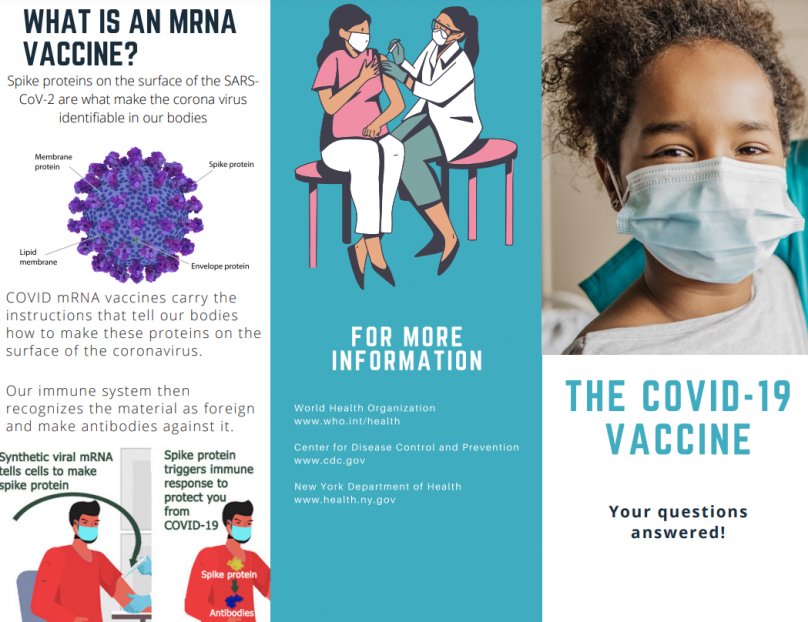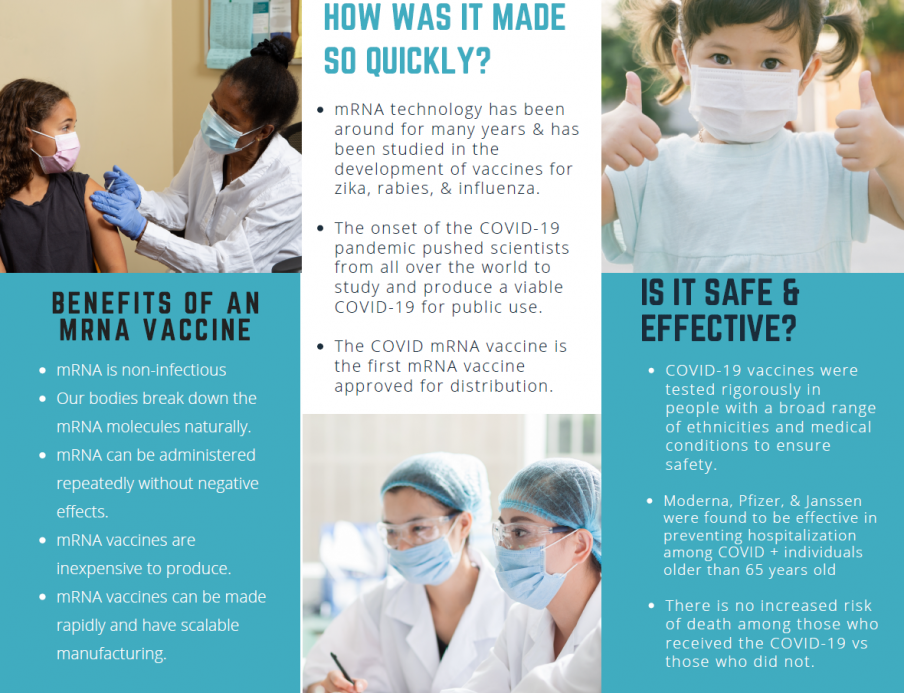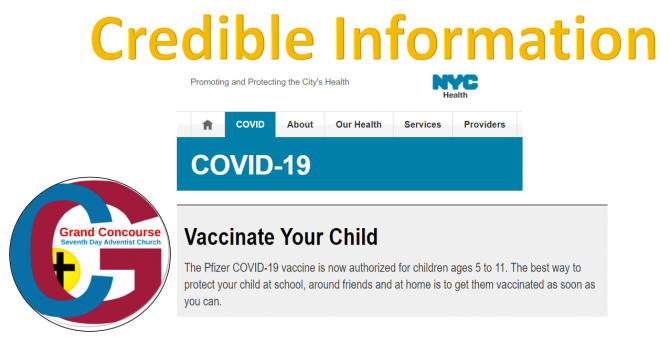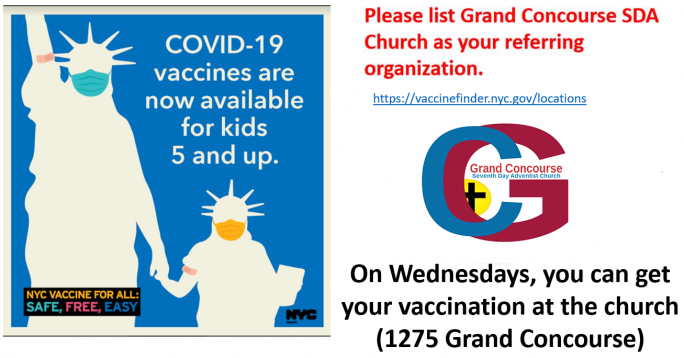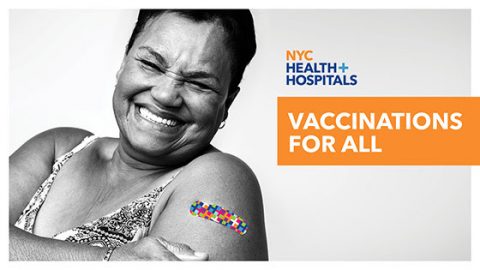 COVID-19 Booster Shots Now Available
COVID-19 vaccine booster shots are now available for many New Yorkers. They are intended to provide additional protection against COVID-19. Learn more | Make an Appointment at NYC Health + Hospitals | Call 1-877-829-4692 to Make an Appointment.
Pfizer and Moderna Vaccine Recipients
NYC Health + Hospitals is now offering booster shots to the following eligible people, if they received two doses of the Pfizer or Moderna vaccine at least six months ago:
People 65 or older.
People 18 - 64 who have an underlying medical condition. Learn more
People at higher risk of COVID-19 exposure due to their job. For example, health care workers.
People at higher risk because of where they live or frequently visit, for example, a homeless shelter.
People living in a nursing home or other long-term care facility.
Which booster should you get?
People who received two shots of the Pfizer or Moderna vaccine should try to get the same booster vaccine. However, they can now get a booster shot of any of the three types of vaccines authorized in the U.S.: Johnson & Johnson, Moderna or Pfizer.
Johnson & Johnson Vaccine Recipients
Anyone 18 or older who received the single-dose Johnson & Johnson vaccine at least two months ago can now get a booster shot of any of the three types of vaccines authorized in the U.S.: Johnson & Johnson, Moderna or Pfizer.
Not sure what to do?
If you are not sure which type of vaccine you should get, talk to your health care provider or clinical staff at a vaccine site.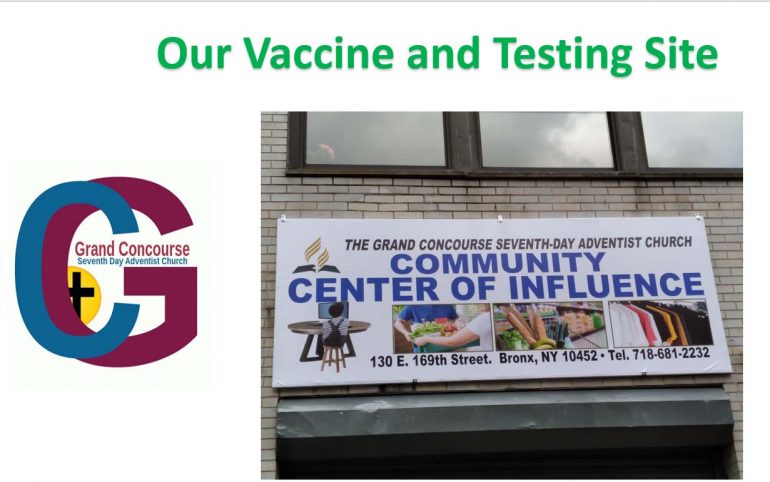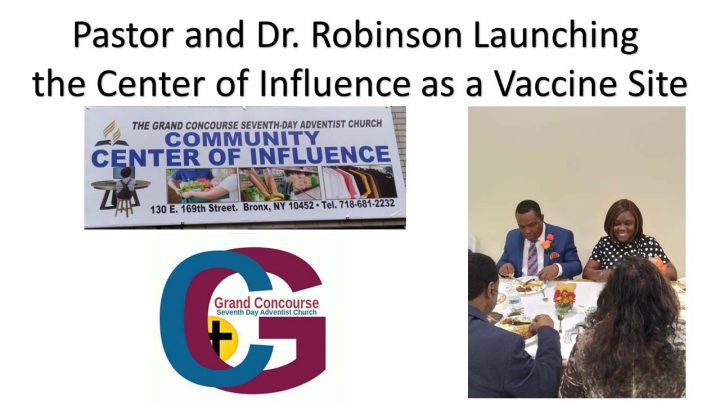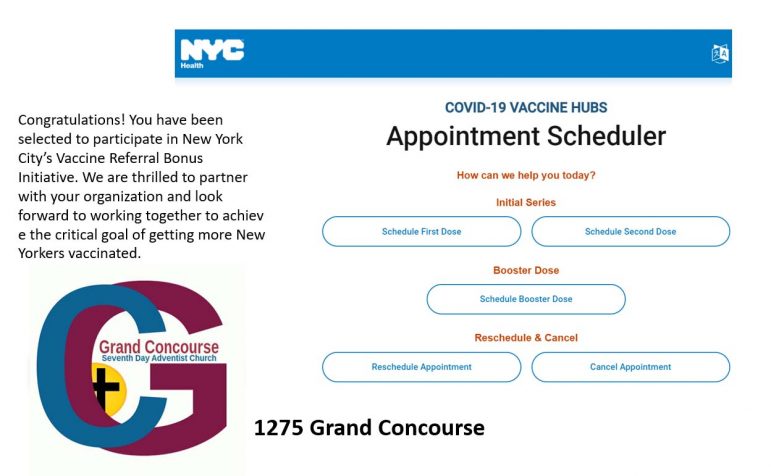 ---
---
---
Is the vaccine the Mark of the Beast?
---

Your Guide to Masks
Updated Aug. 13, 2021
Wearing a mask over your nose and mouth is required on planes, buses, trains, and other forms of public transportation traveling into, within, or out of the United States and while indoors at U.S. transportation hubs such as airports and stations. Travelers are not required to wear a mask in outdoor areas of a conveyance (like on open deck areas of a ferry or the uncovered top deck of a bus).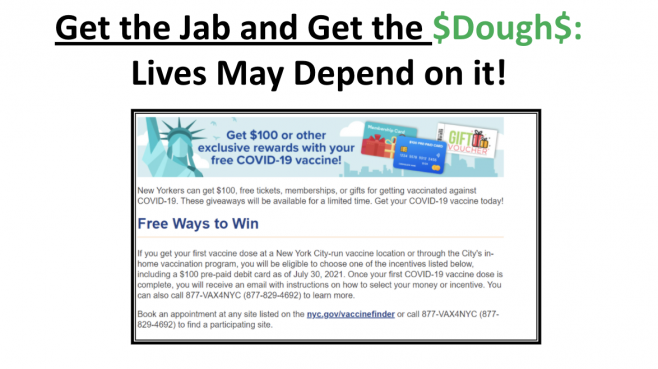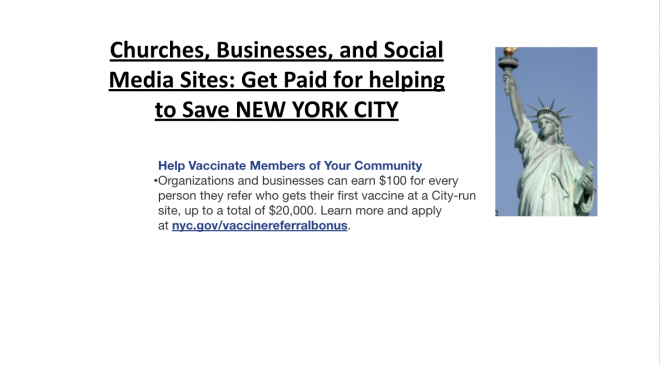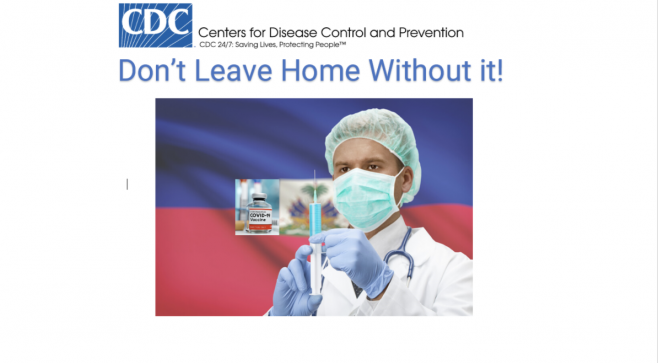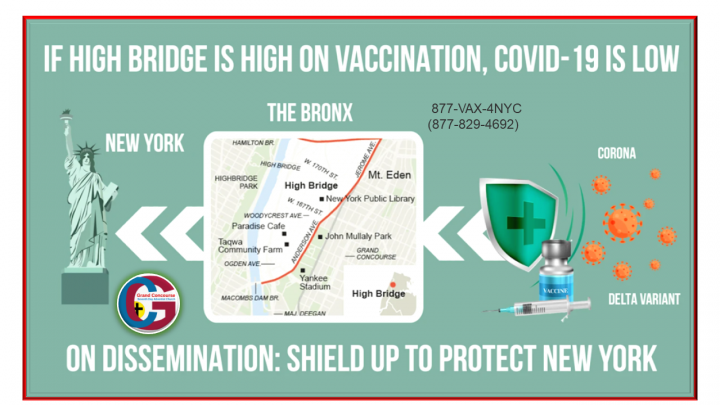 When things get tough, New Yorkers rise to the occasion. We continually show up and take care of each other. Whether you have five minutes to help us spread the word on social media, or the capacity to host a pop-up vaccine site in your neighborhood, you can play a role in connecting New Yorkers to the vaccine. Learn more about the different ways you can help your community here.
65% of 12—17 year olds have at least one dose of the COVID-19 vaccine. This is a higher percentage than any other big city! Although fewer children have gotten COVID-19, children can still be infected with the virus, get sick from it and spread it to others. Everyone 12 years and older should get vaccinated to help protect against further spread! Learn more here.
The City's Doctor, Dave Chokshi, and the Schools Chancellor, Meisha Porter talk about the importance of getting eligible students vaccinated. See their video here.
This week, we'll have free, ADA-accessible pop-up vaccine sites at locations promoting a safe return to school. Don't forget that anyone, including students, vaccinated at these sites is eligible for $100! Find the site closest to you at nyc.gov/nycmobilevax.
---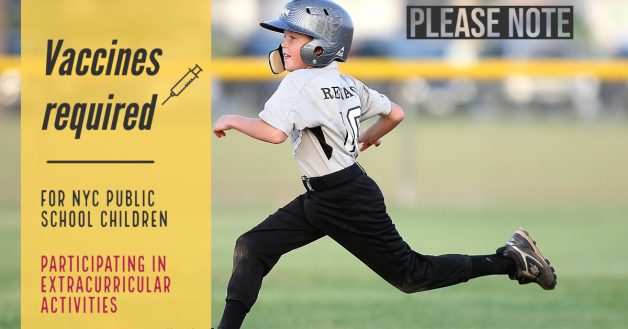 ---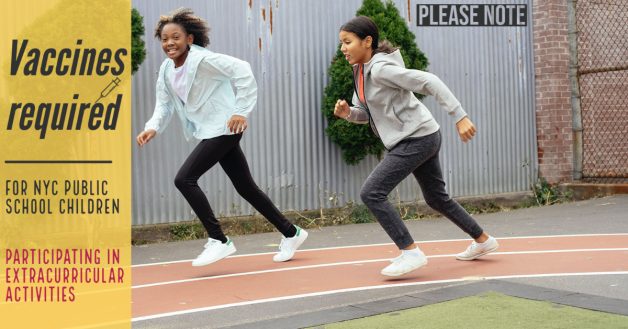 ---
---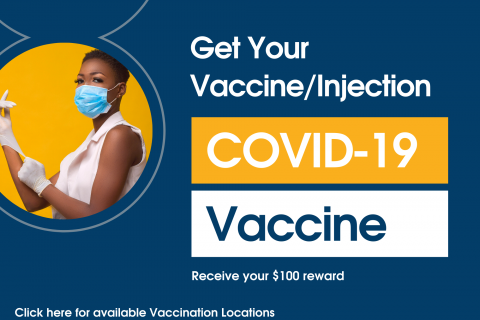 ---
USEFUL INFORMATION
Policy Updates:
As of 9/22, the FDA has authorized booster shots for people who are 65+ and those who are at increased risk of severe outcomes, including those at risk from occupation.

Next, the CDC ACIP will determine the clinical guidance about who will be recommended for the booster shot, and the timing of the recommended boosters.

Once the ACIP guidance is made, the CDC will then give final word to the country regarding operationalizing the guidance.

Operationally, nothing has changed today – Only those who are severely or moderately immunocompromised are authorized to get a third dose at this time: https://www1.nyc.gov/assets/doh/downloads/pdf/covid/covid-19-third-dose.pdf

To find more information on Breakthrough Infections with this FAQ.
Storm Recovery Resources
NYC Emergency Management and the NYC Department of Social Services announced yesterday that service centers in Brooklyn, Queens, and the Bronx will change locations. The Service Centers, established in all five boroughs, support individuals and families affected by the flash flood emergency that occurred September 1, 2021. The three centers will open each day from 8 a.m. to 7 p.m. and provide those affected with in-person support and information on resources and services available.  
Find resources here: https://www1.nyc.gov/site/em/resources/ida.page
This site contains a growing collection of resources, including the following:
- Get disaster assistance and report damage to the Federal Emergency Management Agency (FEMA)
- Get free emergency alerts and updates from Notify NYC
---